What do you do when your property in Basildon suffers water damage and the ceiling falls down and your furniture and carpets are saturated? Like most people you will probably panic! Imagine your ceiling is sagging and part of it has collapsed all over your floor. Your carpet is wet under foot and water is dripping from the flat above. There is an awful mess, your furniture appears to be ruined and your neighbour upstairs is completely unaware about what is happening to your home. Maybe, even worse, your property has been flooded from a burst water main, rain storm or an over flowing river. Whatever the cause you need to call Tapco Homedry immediately to arrange a specialist damp and timber survey and to start the drying out and restoration work as quickly as possible.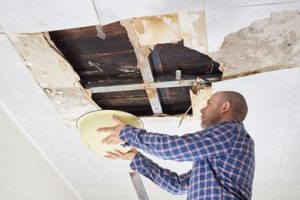 If it's a water leak from the floor above you, hopefully your neighbour is now aware of it and they have stopped it it by turning off the water supply and calling a qualified emergency plumber to repair the leak. Hopefully you are now calming a little and thinking about what you need to do next? Obviously there is a lot of cleaning up to do but before you start, take some photographs of the damage to show to your insurance company. Now notify your insurance company. As soon as you have done this, remove any damp or wet soft furnishings, such as cushions, curtains and carpets and take them somewhere warm to dry.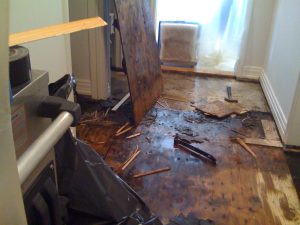 The insurance company may ask you to have the damaged surveyed by a specialist water damage restoration company, such as Tapco HomeDry. We will report on the extent of the damage and produce a detailed report and images for their approval. Our Property Care Association (PCA) qualified damp and timber surveyors will carry out a thorough survey using a Thermal Imaging Camera and calibrated damp meter, taking images of all the damaged areas. Following the insurance companies approval, we will install industrial dehumidifiers and warm air fans to produce rapid drying prior to commencing the restoration work. The insurance company will possibly appoint a loss adjuster to assess the damage and on agreement with our recommendations they will confirm their liability and pay for the restoration work. Following this Tapco HomeDry's very experienced water damage restoration specialists will carry out the complete restoration work to the highest possible standard and get you back to normal as quickly as possible.
Tapco HomeDry has been established since 1971 and are recognised as one of London and the Home Counties longest established and reputable Water Damage Restoration, Damp Proofing and Dry Rot eradication specialists. We are long term members of the Property Care Association (PCA), Trust Mark (Government Endorsed Standards) and associated members of the British Damage Management Association (BDMA). We are also an accredited Which? Trusted Trader so don't compromise, call us first.
Tapco HomeDry also specialise in:
Rising Damp eradication. The installation of a new damp proof course, specialist damp proof plastering and refixing joinery timbers.
Lateral Damp Penetration. Structurally water proofing the walls below ground (Tanking).
Basement Conversions. Water Proofing basements, cellars and vaults using a Cavity Drain Membrane Systems (CDM) or Tanking.
Burst Pipe Water Damage restoration for you and your insurance company.
Rain penetration. Carry out repairs and water proof plastering internally and repairing the cause.
Condensation and Mould Control (Aspergillus app) using positive and passive ventilation systems.
Dry Rot (Serpula lacrymans) eradication and restoration.
Woodworm & Wood Rot eradication.
Cracked Bricks and Cavity Wall Tie repair.
Blocked Drains, CCTV camera surveys and structural resin lining.
General property maintenance to stop damp.
Our long term guarantee can be protected by Guarantee Protection Insurance (GPI).