If you need more space at your property in or around Windsor or Ascot and you are considering utilising a damp, dark uninhabitable Basement, Cellar or Vault you really can't go wrong.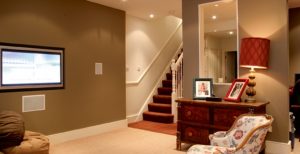 An example of what can be achieved
The advantages of making use of any wasted space you may have in your property are many, but maybe you are only thinking about the obvious such as having your own space to relax or work or better still, somewhere for the children to disappear to and play for hours. If we take a look, many of us have some space that's not being used, whether it is in the loft or under your feet in a basement, cellar or vault. The difference between 'going up or going down,' is that going up will probably require planning permission or at least Building Regulation Approval, where as, in most cases, where a basement, cellar or vault already exists, you don't need either. Also extending into your loft space is much more complex and expensive because major structural supporting is often required, especially to the ceilings, which are going to become the floors. Another disadvantage of a loft conversion is controlling the temperature of the new rooms, which are incorporated in a roof void, isn't straight forward, they become very hot in the summer and cold in the winter. For sure everything can be overcome but it will be at a price.
Converting an exiting unused basement, cellar or vault makes much more sense. Apart from not requiring planning permission, the rooms are already there so there is little in the way of building that needs to be done. In most cases all we may have to do is to determine the floor levels and carry out by far the most important part, damp proofing the walls, floors and ceilings to keep your new rooms dry for many years to come. The damp proofing systems are quick to install and once the new rooms have been completed they will add much to the value of your property.
Tapco HomeDry has been established for over four decades and have carried out many Basement Conversions throughout London, Surrey and surrounding Counties. The majority of these have been carried out using a Cavity Drain Membrane System (CDMS). This consists of a high density, Polyethylene, studded membrane's which control moisture ingress, diverting it to where we want it to go, outside of the property.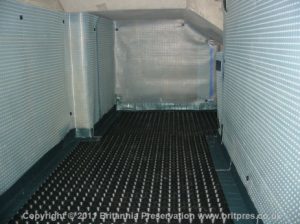 A damp vault being converted into a new room
We can't stress enough, this is not 'builders' work it is specialist work and should only be carried out by a qualified damp proofing company such as Tapco HomeDry. We are long term members of the Property Care Association (PCA) the Basement Waterproofing Association (BWA), Trust Mark (Government Endorsed Standards) and an accredited Which? Trusted Trader.
For Corporate Clients and Main Contractors, we can, if instructed, carry out the damp proofing aspect of the project only, such as installing the Cavity Drain Membranes and the sump chamber and pump only, ready for your own contractors to dry-line or plaster. If required we can also survey and repair a damp proofing system previously installed by a third party. Never compromise call us first