The busy South-London suburb of Tooting, London, SW17, has recently had a crater on Mars called after it in honour of the planetary scientist paying tribute to his hometown in England.  At the heart of Tooting is the vast green expanse of Tooting Common and the town offers every type of eatery and leisure pursuit imaginable.
If you have a disused basement or cellar in Tooting, you may be considering converting it to increase your living space. Tapco HomeDry are members of the Basement Damp Proofing Association (BDA), Property Care Association (PCA) and Trust Mark (Government Endorsed Standards).  We use two methods of damp proofing for cellars, vaults and basements: Structural Waterproofing and Cavity Drain Membrane System, both of which are covered by our long term guarantee which can be further protected by Guarantee Protection Insurance. (GPI).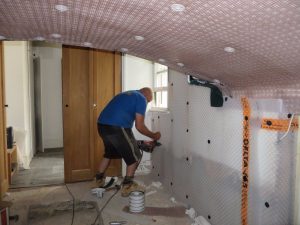 Tapco has been established since 1971, consequently we have vast experience in specialist damp proofing – which is essential when dealing with basement damp.  We are a Which? Trusted trader so you can be confident knowing that our works are carried out by highly skilled and trained technicians to ensure an end result that will endure well into the years ahead.
It is critical that, if you intend to make your basement habitable, the first thing you must do is ensure it is entirely dry. Damp frequently affects basements raising serious concerns, as they are below ground and it is vital that there is sufficient ventilation and consistent temperature to ensure that conditions do not prevail which might cause problems such as Dry Rot (Serpula lacrymans) known to cause devastating destruction and compromise the integrity of a building. We can undertake just the specialist damp proofing ready for your own builder to dry-line or plaster or the entire project from start to finish.
So whether you are looking to create a new dream room in your basement or cellar or it just needs repair, call Tapco HomeDry and we will arrange a convenient appointment for our qualified Surveyor to conduct a survey and send our detailed report with sketch plan and images within three working days of his visit.