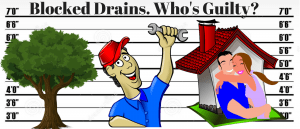 Blocked drains present quite the problem for homeowners. The consequences of blocked drains are severe; whether it be a toilet overflowing or a collapsed sewer pipe, the intoxicating smell is enough to ruin anyone's day and sadly that is just a surface issue. There are many culprits responsible for blocking our drains including the homeowner, workmen and Mother Nature. If these three things are allowed to cohesively work together they pose a formidable challenge to any drainage expert.
When it comes to drains, prevention is key. One of the major problems that presents itself to homeowners is that the system lives underground. This makes it difficult for homeowners to inspect the issue themselves and perhaps more dangerously allows individuals to live in ignorance as they do not see the damaging effects of their actions on their drainage system.
Mother Nature
Let's begin looking at our guilty culprits by pointing the finger (elsewhere) in Mother Nature's direction. Every year as we move into the autumn, the trees shed their leaves, creating huge masses of stray leaves. These stray leaves are often left to their own devices, blown about by the wind. Unfortunately, the wind does not have keeping your drains clear of leaves in mind. In reality, the chances are that your drain will morph into the perfect storage space for loose leaves in the autumn and the wind will continue to top up the collection.
However, Mother Nature's involvement does not stop at shedding leaves. Tree roots can be devastating to drainage systems, the roots can crack pipes which will create a blockage. Additionally, heavy rain can have an adverse impact on the effectiveness of your drainage system. If your system is suffering from a blockage when heavy rains and pressure are placed on the system it can result in flooding and severe damage to your property.
The Workmen
Another of our suspects is the workmen that installed or repaired the drainage system. With our world-renowned Do-It-Yourself (DIY) culture in the United Kingdom it will come as no surprise that many of us Jack of all trades will dabble in the world of plumping. Sadly, this method often results in badly installed drainage pipes and plumbing. An integral part of plumbing is choosing the right pipes thus it is of upmost importance that an expert with full understanding of the pipework undertakes the job. In built up areas, incorrect installation could have a damaging effect on your property as well as your neighbours which could result in great expense.
The Homeowner
Sadly and as difficult as it may seem, we must point the finger in our own direction. As well as a DIY culture, we also live amongst one of the world's most wasteful societies and it will come as a surprise to only a few that our drains suffer as a result. The two areas in our homes that most significantly affect our drainage systems are the kitchen and the bathroom.
In the kitchen, grease and fat are a nightmare for our drains. As we innocently pour the remainder of our bacon juice from our warm frying plans into the kitchen sink on a Saturday morning we are committing a cardinal drainage sin. We are actually coating the inside our drainage pipes with grease and fat which congeals when it comes into contact with cold water. Eventually the excessive fat will build up to the point that no liquid can pass through and a blockage is created. We can prevent this issue from arising by simply disposing of our excess grease in containers intended for landfill.
In the bathroom, hair is at fault for having an adverse impact on our drainage systems. As our hair naturally (or unnaturally) falls out whilst washing it is collected in our drains. Over time, as the amount of hair grows the drains will be less effective and take longer to drain until the hair problem grows so large that no liquid will drain at all. Additionally, shampoos and conditioners which are very greasy substances by design will help create greasy clumps of hair perfect for blocking your drains.
The Jury's out
To conclude, all three parties; Mother Nature, workmen and homeowners are all equally guilty for crimes against drainage systems. However, the only one who will be made to pay for their sins is the homeowner. This is as a result of the homeowner holding the jurisdiction to ensure Mother Nature's natural life cycle does not affect their drains. As the workmen, professional or otherwise, were chosen and employed by the homeowner they cannot be held responsible.
Court dismissed.