Brighton Client's second time of damp proofing her basement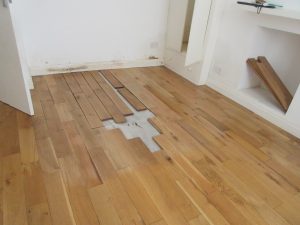 Following instructions from a very upset and worried client, Tapco HomeDry carried out a damp survey to the basement rooms of a large semi-detached property in Brighton, which were showing signs of damp to several areas of the walls in all rooms. We were advised by our client that extensive and costly damp proofing had been carried out about three years ago by a local company who denied responsibility for the recurrence of damp.
On the instructions of our client, random areas of damp dry-lining were removed by our qualified damp surveyor, which confirmed that a high density membrane had been installed. It was immediately discovered that the membrane had been installed vertically and the joints hadn't been sufficiently overlapped or bonded together properly. This was allowing moisture to penetrate from the wet walls and damage the dry-lining. Following a very thorough survey, our detailed report was issued, which recommended that the complete system be removed and replaced with a new Cavity Drain Membrane (CDM) system.
Following instructions from our client, work was immediately commenced by our experienced operatives, who set about removing the dry-lining and membranes and disposing of them. A sump chamber, drainage channels and pump were installed together with a new horizontal membrane, overlapping and jointing in accordance with the manufacturer's instructions. A larger studded floor membrane was laid throughout, which was connected to the wall membrane. On completion of the installations a galvanised metal frame was installed to the walls, prior to insulating and fixing plasterboard, ready for plastering. A floating, treated, tongue and groove chipboard floor was laid throughout and the plasterboard was prepared and plastered to a smooth finish throughout. Finally, an alarm was fitted to the pump together with a battery back-up system, to take over if ever there is an electricity power cut.
Our client, understandably, constantly monitored and recorded our work and was very complimentary about how thorough and helpful our operatives were. She now has a professionally installed Cavity Drain Membrane system, a guarantee which is insured by Guarantee Protection Insurance (GPI) and most importantly, a dry basement for years to come.
Because this had to be done twice, it came at great expense and stress for our client who now has the time consuming and costly task of trying to recover her loss from the other company. Do it once, do it right and only ever use a specialist company who are members of the Property Care Association (PCA) the Basement Waterproofing Association (BWA) and Trust Mark (Government Endorsed Standards) Compromise shouldn't be considered.