Suddenly noticing a strange looking patch on your walls can be worrying.  What is it and what's causing it? How do you get rid of it? Dealing with a damp patch on the wall of your home starts with figuring out what is causing it.  Once you have an idea of the cause, you can start looking at solutions.

Common Causes
There are lots of different reasons why you might spot a damp patch on the wall of your home.  For example, it might be that there is a weakens in the weatherproofing of the home that is letting in the water somewhere – cracks in bricks, broken roof tiles or a problem with the guttering.  Other times the cause may relate to the actual damp proofing of the house known as a DPC (damp proof course).
Damp can lead to serious damage within the house as well as unpleasant conditions such as black mould that look terrible.  Conditions such as wet or dry rot can cause real structural damage to the property if left unchecked with roof timbers rotting, floorboards giving out and interior decorating like wallpaper peeling and becoming discoloured.  They can also lead to health problems as black mould is toxic and can affect people with breathing conditions such as asthma.
Understand damp
The type of damp is one of the ways that a course of action is decided upon but there are other factors.  For example, the age and type of house can impact what work has been done and what work needs to be done.
For example, older buildings might not have a DPC that is to a current standard as these have improved in recent generations.  Older houses are also more prone to damp patches due to the way they were constructed. When dealing with them it is also important to allow them to breathe so completely blocking them up will just cause more problems.
New homes are often damp proofed as part of their construction.  However, they can face problems with insufficient ventilation that can lead to damp problems such as condensation.  Because modern homes focus on energy efficiency and not wasting heat, they tend to have less ventilation, but this means there is nowhere for warm, moist air to go.
Loft and wall insulation are great at their job, but they can also add to the problem of condensation.  That's why good loft ventilation is as important as insulation. However, if there is a particular spot where there are signs of damp high up on a wall, then penetrating damp getting through a weakness is more likely to be the cause than general condensation.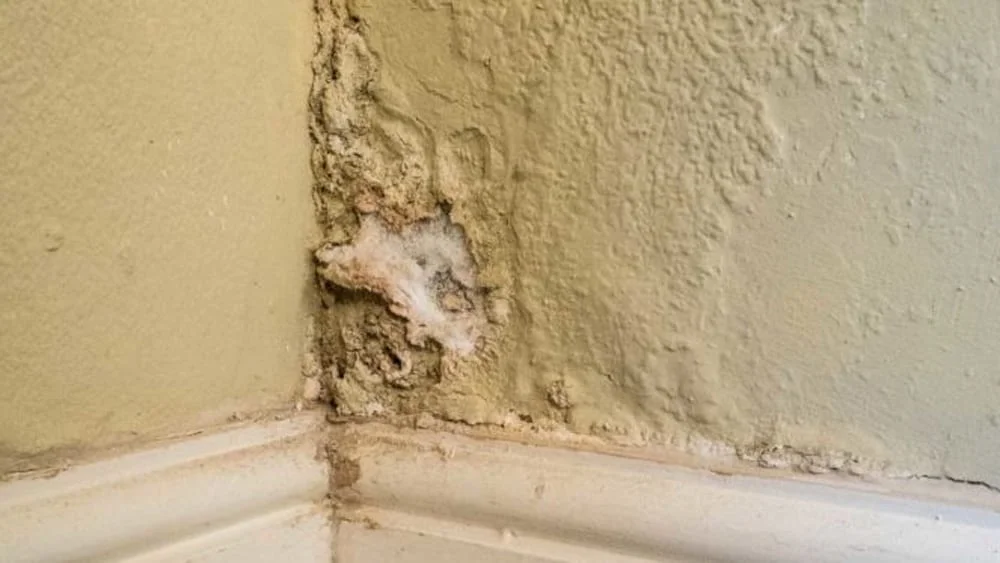 Dealing with damp
Learning all about damp may not seem something you need to do but if you want to deal with that damp patch on the wall or any other part of the house, understanding it is the first step in dealing with it.
Take rising damp – it rises up from the ground and if the DPC doesn't stop it, it causes problems in the downstairs rooms of your house.  The key to handling it is to get a new DPC which can come in different forms. The best form of DPC depends on the age of your house and the construction materials.  So working with a damp expert is often best to figure this out and find the ideal solution.
Penetrating damp can be easier to figure out and fix because it comes through a weakness.  So if you find a broken roof tile or a cracked brick near the spot where watermarks or damp patches have been found, it is likely to be the cause.  Fixing that weakness will stop more water from coming in although you will need steps to deal with the damp patch and stop problems like black mould occurring.
Handling damp doesn't need to be too complicated – a  good damp expert will be able to run a few tests and quickly tell you what is causing the problem.  They will then be able to suggest what needs to be done to fix it. That will see off the damp patch on the walls and ensure it doesn't come back later on as well.
Dont forget to see our explanation video of how to deal with damp.