Dartford is the principal town in the Borough of Dartford, Kent. The town is situated on the border of Kent and Greater London, bordering the London Borough of Bexley. It also borders the Borough of Thurrock, Essex, via the Dartford Crossing of the River Thames and Gravesham to its east. The town centre lies in a valley through which the River Darent flows, and where the old road from London to Dover crossed: hence the name, from Darent + ford. Dartford became a market town in medieval times and, although today it is principally a commuter town for Greater London, it has a long history of religious, industrial and cultural importance. It is an important rail hub; the main through-road now by-passes the town itself.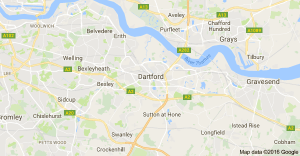 If you live or are planning to live in or around Dartford and your property has a problem with damp or timber decay, you simply have to contact one of the most established and reputable damp proofing companies in the UK, Tapco HomeDry. We have been trading continuously since 1971 and specialise in treating all problems with damp whether it is rising from the ground or coming through the roof or the walls. We also specialise in eradicating all forms of timber decay, including the dreaded Dry Rot Fungus (Serpula lacrymans) and any of the many species of Woodworm.
If your damp or decay problem has been caused by building defects we can carry out every aspect of property maintenance including structural wall strenghthening, cavity wall tie replacement, CCTV darain surveys and drain repairs, including structural resin lining. In fact WE STOP DAMP. We carry out all necessary repairs and restoration and all of our work is covered by our established long term guarantee.
Your property, or the property you are buying, may experience more problems with high humidity, condensation but Tapco HomeDry can control these to. We can install a thermostatically controlled Condensation Control Unit (CCU) which is very effective and cheap to run. We can also install draught free Passive Vapour Vents (PVV) and Warm Wall insulation, The very dangerous and damaging Black Spot Mould Fungus can be remove using a fungicidal wash.
If you think you property is damp don't delay in dealing with it because the longer you do, the more expensive it beomes. Tapco's experienced surveyors will find the exact cause of the problem and send yo a detailed report. We are long term members of the Property Care Association (PCA), Trust Mark (Government Endorsed Standards) and an accredited Which? Trusted Trader. Call the best first, call Tapco HomeDry.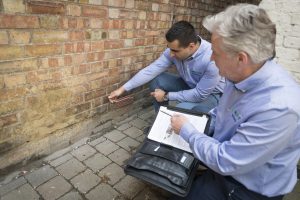 We are not far from you around the M25 motorway and during our 45 years + of trading we have carried out many surveys in an and around Dartford including Sidcup, Bexley Heath, Chislehursjt, Grays and Tilbury. Call us first.