Tapco HomeDry are one of Hampshires most established and reputable damp proofing, woodworm eradication, dry rot treatment and restoration, water damage restoration and property maintenance companies. We know Farnborough well because we are based close by in Esher and Thames Ditton in Surrey. You may also have seen one of our many distinctive vans nearby where we were preserving yet another Farnborough Property.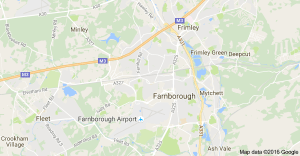 We have been continuously trading in Hampshire, Surrey and London since 1971 during in which time we have carried out damp proofing or timber treatment in every town and almost every road. We are long term members of the Property Care Association (PCA), Trust Mark (Government Endorsed Standards) and we are an accredited Which? Trusted Trader.
We are experience, specialists at eradicating rising and penetrating damp, carrying out complete basement or cellar conversions to increase the size and add value to your property, burst pipe water damage restoration for all major insurance companies, Dry Rot (Serpula lacrymans) eradication and full restoration service, Full timber treatment and eradication of woodworm, including Surrey's worse, The House Longhorn Beetle (Hylotrupes bajulus), Structural repairs to cracked walls, the replacement of Cavity Wall Ties, CCTV drain surveys and structural; resin lining and full property maintenance to stop all forms of damp entering your property.
If you are in the process of purchasing a property in Farnborough you have probably had a structural survey or Home Buyers survey carried out. If they have highlighted any damp related problems that could have decayed timbers then they would also have advised that you instruct a specialist company, such as Tapco HomeDry, who is a member of the Property Care Association (PCA) to carry out a thorough survey, prior to purchase. Being you local specialist in Surrey we can get one of our qualified damp and timber surveyors with you quickly. Following his survey you will receive our very detailed report, images and floor plan, clearly stating what was found and what is required to return your property to a sound condition.
When people think of Damp, Timber or Dry Rot problems in Hampshire, Surrey or London, they think of Tapco HomeDry, Farnborough's best.