Purley is situated along the A23 in the London Borough of Croydon, it is in an ideal position for access to Central London as well as Gatwick Airport and Brighton. It enjoyed considerable growth during the 1920s and 1930s providing spacious homes in a less urban environment and has a claim to fame as home to some major celebrities in the UK including Francis Rossi, lead singer of Status Quo. Kenley Aerodrome is now home to the gliding club but was one of the most important fighter stations during World War II.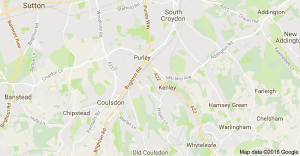 Are you considering purchasing a property in Purley or Croydon? If so it is probable that you will be instructing a Home buyers report or structural surveyors report, which is recommended prior to property purchase. If your surveyor should highlight any timber defects or high levels of moisture in the walls, they are likely to recommend that you instruct a specialist like Tapco HomeDry, who are members of the Property Care Association (PCA), to carry out a damp and timber survey to establish any treatment that may be necessary.
If the current owner informs you that there are guarantees in existence, we urge you to check which areas of the property have been treated – do not assume that the entire property is covered! Remember to make sure that the company is still trading, so the guarantee remains valid.
Tapco HomeDry hold the Trust Mark (Government Endorsed Standards) and are an accredited Which? Trusted Trader – we have been established for over 45 years so you can have confidence in our abilities. Our surveyors are qualified, knowledgeable and experienced and will provide a comprehensive report prior to exchanging contracts, detailing any necessary remedial works required to ensure the property is free of damp and timber decay.
We can also check the general condition of the property, including the roof coverings, rain water goods, external rendering, brick pointing and all other items that may cause internal damp. Tapco Homedry can carry out every aspect of property maintenance including structural wall strengthening, cavity wall tie replacement, condensation control, CCTV drain surveys and repairs, including structural resin lining.
Our remedial works are carried out by our competent trained and skilled technicians and covered by our long established 20 year guarantee, which can be protected by Guarantee Protection Insurance for complete peace of mind.Don't compromise call the best first, call Tapco HomeDry – ensuring you protect your home and investment for the years to come.