Damp proofing property for over 46 years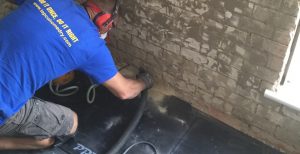 If you are fortunate enough to own or manage a property in and around London you probably know that the older the building the more it seems to need maintaining. Tapco HomeDry know that a dry property is a sound property so eliminating damp as soon as you know you have it or better still, preventing it all together, in the long term will save a lot of money. Ignoring a problem, which many people do, does not mean it will go away, in fact, day by day, week by week it will get worse, until before you know it, something awful happens like mushroom type fungus starts to grow and plaster falls of the walls. The chances are that fungus could be Dry Rot (Serpula lacrymans) which can spread very rapidly through, not only your property, but into your neighbours too. It is likely that you don't know too much about this very damaging fungal attack, but you should, whether you have it or not, so take a look on our website. Prevention is always better, and cheaper, than cure so like your precious car, maintain your property on a regular basis.
Where you notice damp will immediately tell our qualified damp and timber surveyor, what has caused it. The most common source of damp, which can affect any type and age of property is condensation. Condensation is caused by high humidity, in most cases, caused by the people who live or work there. It occurs when warm moist air from activities like taking a shower or bath, cooking, drying laundry on radiators and even breathing, comes into contact with a cold surface and condenses. This can become so bad during the winter months that the walls and ceilings, furniture, clothing and personal items become mouldy. This mould is called Aspergillus app, which can be very damaging to your health. Also very common with older properties is Rising Damp. The first signs of rising damp is peeling wall paper at the base of the wall, a horizontal line of damp at the base of the wall or blistering, crumbling wall plaster. Damp rises from the ground by capillary action either because the original damp proof course has broken down or it is being bridged by the external ground level or an internal solid (concrete) floor. When the external ground level is above the internal floor levels damp can also penetrate laterally because of a hydrostatic pressure. This can cause considerable damage to the internal wall plaster which would have to be removed prior to carrying our structural waterproofing. If you have damp on walls or ceilings of the upper floors it is possible these are caused by either rain penetration or leaking plumbing. Older properties with a basement, cellar or vaults are very vulnerable to damp and often site there for many years without being used, which in this day and age, with property prices soaring and living space at a premium, is completely uneconomical However here at Tapco Homedry we are converting more and more unusable damp basements into amazing living space for all types of use, such as an office, children room, another bedroom or even a cinema room.
A Tapco HomeDry qualified damp and timber surveyor will carry out a through inspection and tests to determine the cause and extent of the damp problem and issue you with a very detailed report, recommendations and floor plan highlighting exactly what needs doing and how much it will cost to rectify it. We have been trading continuously for over 45 years and are very long term members of the Property Care Association (PCA) and Trustmak (Government Endorsed Standards) We pride ourselves in doing it once, doing it right as we have been providing solutions of damp, in London and the Home Counties, since 1971. Trust Tapco HomeDry, call us first.