Damp problems in a property do not have a single cause. There are a number of them that properties in Northolt and elsewhere experience, caused by many reasons. Each cause of a damp wall, floor or ceiling is unique and has its own solution to rectify. This is why you should only use a Damp Specialist company who are Property Care Association (PCA), qualified, such as Tapco HomeDry. It takes many years of experience to be a qualified, honest and thorough damp & timber surveyor and be able to identify the cause and correct remedial work, to ensure you do it once and do it right.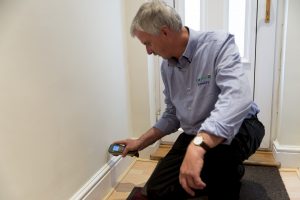 A Tapco HomeDry damp survey
Unfortunately damp and timber rot problems, including some species of woodworm, go hand in hand, very simple,no damp no timber decay, so the sooner you deal with it the less it will cost. If left, ideal conditions will occur for the dreaded Dry Rot Fungus (Serpula lacrymans) to germinate, which can cost thousands of pounds to eradicate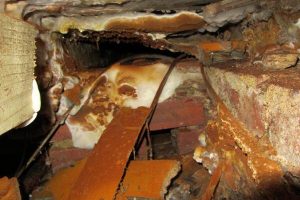 A virulent attack of Dry Rot Fungus (Serpula lacrymans)
Some of the problems we have helped to resolve in thousands of properties.
Rising damp from the ground by capillary action
Lateral damp penetration through walls that are below ground
Rain penetration from leaking roofs or defective rain water goods, external rending or other building faults
Damage caused by leaking plumbing, high water tables or overflowing rivers.
Concealed leaking plumbing which has resulted in an attack of wood rot, including Dry Rot fungus (Serpula lacrymans)
Condensation leading to steaming windows, damp or wet walls, mould on furniture and clothes and Black Spot Mould fungus (Aspergillus app)
Tapco HomeDry specialise in:
Rising Damp eradication. The installation of a new damp proof course, specialist damp proof plastering and refixing joinery timbers.
Lateral Damp Penetration. Structurally water proofing the walls below ground (Tanking).
Basement Conversions. Water Proofing basements, cellars and vaults using a Cavity Drain Membrane Systems (CDM) or Tanking.
Burst Pipe Water Damage restoration for you and your insurance company.
Rain penetration. Carry out repairs and water proof plastering internally and repairing the cause.
Condensation and Mould Control (Aspergillus app) using positive and passive ventilation systems.
Dry Rot (Serpula lacrymans) eradication and restoration.
Woodworm & Wood Rot eradication.
Cracked Bricks and Cavity Wall Tie repair.
Blocked Drains, CCTV camera surveys and structural resin lining.
General property maintenance to stop damp.
Because damp proofing is not a "one size fits all" problem, it is essential to instruct a damp proofing specialist who is a member of the Property Care Association (PCA) and has the experience and knowledge to fully assess your property and to recommend the most effective solution. Too many home owners select a contractor based purely on price, only to find that the work done has been ineffective. At Tapco HomeDry we're different; we believe in providing a level of service that lets you rest easy in the knowledge that your damp problems are gone for good.
Do It Once, Do It Right
Tapco HomeDry takes pride in providing the very highest standards in all that we do – from customer service to the completion of the remedial work. We have been established since 1971 and are long term members of the Property Care Association (PCA), Trust Mark (Government Endorsed Standards) and the Basement Waterproofing Association (BWA). In addition we are an accredited Which? Trusted Trader, a copy you can trust.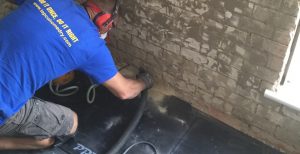 The injection of a new Damp Proof Course
We cover the whole of London and the Home Counties so if you have a damp problem at your property or you have been advised by a structural surveyor to acquire a damp and timber survey, prior to purchase, then Tapco Homedry is the company you can trust.
If you're concerned about the appearance of damp and mould in your home, call Tapco HomeDry today for a damp and timber survey.