Leatherhead is a lovely town in Surrey, next to Dorking and Ashtead, in the Borough of Mole Valley. The town of Leatherhead is made up of a diverse mixture of property, many of the old and even historic.
If you are fortunate enough to own a property in Leatherhead you may have heard of Tapco HomeDry because  e are your local damp and timber specialists who over the 45 years since we were established have carried out many damp proofing and timber treatment contracts in Leatherhead, all to the complete satisfaction of our clients. It maybe you are considering purchasing a property in the Mole Valley district, in which case you will probably be instructing a Home buyers report or structural surveyors report, which we would strongly advise before purchase. Should the surveyor report on possible defects to timber or high levels of moisture in the walls, they will probably recommend that you instruct a damp and timber specialist like Tapco HomeDry, who are members of the Property Care Association (PCA), to also carry out a specialist survey and to report on any treatment that may be required.
Tapco HomeDry's qualified timber and damp surveyors will, where possible, expose and inspect the roof timbers, flooring timber and joinery, possibly by lifting short ends of floor boards to report on any timber defects. He will then take moisture readings to the wall surfaces, using a calibrated moisture meter, to measure the level of moisture in the wall and report on any remedial damp proofing that may be required. An external inspection will also be carried out to check the general condition of the property, including the roof coverings, rain water goods, external rending, brick pointing and all other items that may cause internal damp. We also carry out a full roof survey, using a Sky Pole Camera, cavity wall tie surveys, using a borescope, condensation surveys using a Hygrometer, water damage surveys using a Thermal Imaging Camara and drain surveys using a CCTV Camera.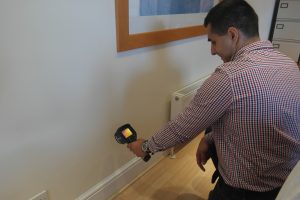 We are long term members of the Property Care Association (PCA), Trust Mark (Government Endorsed Standards) and the Basement Waterproofing Association (BWA). We are also an appointed Which? Trusted Trader. Do it once, do it Right, call us first.