What to do about damp when you are buying or selling a property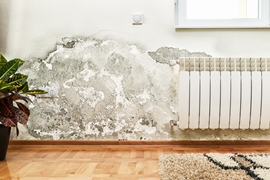 Buying or selling a property can be a daunting and sometimes stressful experience, often made worse when you receive your structural surveyor or home buyers report. The older the property, the more chance that one of the issues mentioned is Damp. Very often the vendor states they have 'never noticed or had a problem with any damp', so in their opinion the surveyor must be wrong. Because of the surveyor's report, it is likely that the lender has insisted you contact a reputable damp proofing company, who is a member of the Property Care Association (PCA), to carry out a full and thorough damp survey and to report on the extent and cause of the problem. Unfortunately, rather than solve a damp issue this can sometimes cause further confusion, when you receive different opinions from different companies.
The problem with damp readings
The problem with damp meter readings is, nearly all damp meters used by damp proofing companies have two modes so they can be used in two different ways. Direct two pin surface reading mode and search mode which uses a radio signal to penetrate the surface of the wall. At Tapco HomeDry we believe that a dry uncontaminated wall surface is a dry wall so our qualified surveyors only measure the moisture content using the surface pin mode. Using the radio search mode can give a false moisture reading, often behind a perfectly damp proofed, dry wall, which doesn't need further disruptive and costly remedial work. This is why you should make sure you only instruct a reputable, established company you can trust, who will measure the moisture and diagnose the cause of the damp correctly.
The importance of finding the cause of the damp
Assessing that a wall is damp does not necessarily mean it needs a new damp proof course, in fact, in many cases, we find that the problem isn't rising damp, but related to rain penetration, leaking plumbing or some other building fault. It is very important when carrying out a damp survey that an external inspection is carried out first, to determine the general condition of the property and if there are any defects that are causing damp internally. Also the external ground levels and adjoining floor levels should be checked to assess if there is lateral damp penetration. Far too often the injection of a new damp proof course is recommended, which is neither required nor of any use in eradicating the actual damp problem.
Why you can trust Taco HomeDry
You can be sure that Tapco HomeDry will find the exact cause and extent of the damp and recommend only the precise remedial work that is required to eradicate it. We have been trading continuously since 1971 and have the reputation as being one of the longest established and reputable damp proofing companies in London and the Home Counties. We are long term members of the Property Care Association (PCA), Trust Mark (Government Endorsed Standards) and the Basement Waterproofing Association (BWA). We are also an accredited Which? Trusted Trader and our long term guarantee can be insured by the Guarantee Protection Insurance (GPI).