You will like it even less if it attacks your house
Without doubt the most destructive wood boring insect (Woodworm) to attack the sapwood of softwood timber is Hylotrupes bajulus, commonly known as the House Longhorn Beetle. Originating in Europe this insect was brought into the UK in imported wood products. First discovered in parts of Surrey, back in the 1960's, it was known to us as the Camberley beetle, simply because most of the early infestations were found in this Surrey town. However, as it spread through Surrey, it then became known as the Surrey Beetle until the infestations became so widespread, it reverted to its correct name of the House Longhorn Beetle (Hylotrupes bajulus). Even today the majority of infestations that Tapco HomeDry find are in parts of Surrey, such as Weybridge, Walton-on-Thames and Hersham. This should never be confused with the Common Furniture Beetle (Anobium punctatum) which is small, more common and causes a lot less damage.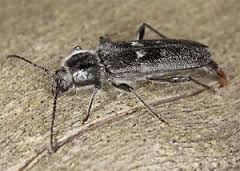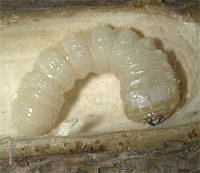 The House Longhorn Beetle (Hylotrupes bajulus) is attracted to the higher resin content of wood harvested less than 10 years earlier, however when old wood is attacked the damage is even greater because as the nutrient content decreases with age, the larvae have to eat more.
In our experience it is very rare to find any affected timbers other than the roof frame. Because they are generally left undisturbed, considerable damage can occur, even to the point of collapse. It is the larvae that feed on the wood, boring up and down the grain, just below the surface, for up to 10 years. The extent of the attack depends of the temperature and moisture content, which is probably why they prefer the roof timbers. Once the adult beetle has sufficiently hardened, in mid to late summer, it cuts an oval exit hole 6-10mm in diameter, leaving a coarse frass around the hole. This is usually the first sign that you have House Longhorn Beetle, but unfortunately much damage has already been done. All cases of Hylotrupes bajulus we find are reported to the Building Research Establishment (BRE).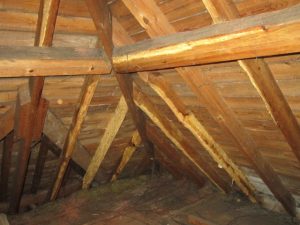 Part of the treatment carried out by Tapco HomeDry is to test the strength of the timber by probing them with a sharp tool and adzing back the loose hollow timber, prior to applying a high performance timber preservative. Weakened timbers are then structurally strengthened with new pre-treated timber or in worse cases, completely replaced.
The destruction caused by this seriously damaging Woodworm should always be avoided and for this reason Tapco HomeDry always strongly recommend preservative treatment to all properties which haven't been constructed with pre-treated timber. All of our treatments are covered by our Twenty Year Guarantee which can be protected by Guarantee Protection Insurance (GPI).