If you already live, or are in the process of buying a property in Tooting and have noticed any of the following, don't ignore it, you maybe seeing the first signs of the dreaded Dry Rot Fungus (Serpula lacrymans). Dry Rot and damp are one of the most highly destructive problems that can affect a property, they can cause major damage and devastation to wood and masonry, not to mention considerable expense to eradicate it. The only way to deal with this major problem is to stop the cause of the damp and immediately eradicate the attack so it is very important to call us to arrange a specialist timber & damp survey as soon as possible.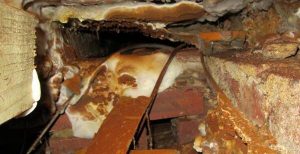 An attack of True Dry Rot Fungus (Serpula lacrymans)
Do any of the following seem familiar?
• The smell of mushrooms, especially when you first walk into your property.
• A fine rust/red dust on your furniture and surfaces. These are the spores being spread from the dry rot fruiting body.
• Split joinery timbers that easily crumble in your hand.
• A white cotton wool like growth on sub-floor timbers. This is called mycelium.
• Unusually springy or warped floors.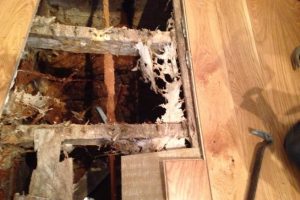 Unfortunately you may not initially notice any of the above signs of dry rot or damp until it is too late, allowing it to go unnoticed and to spread rapidly through your property, causing severe structural damage and the need for thousands of pounds worth of repairs. Each dry rot spore is capable of causing a brand new dry rot outbreak elsewhere in your property. The remedial work we carry out is very thorough. First we locate the exact cause of the cause (damp) and eradicate it. Wall plaster is remove and affected timbers are cut out to beyond the last visible sign of mycelium. The walls and remaining timbers are thoroughly treated, using high performance timber preservatives, prior to replacing the timbers with new pre-treated timber and re-plastering in accordance with our specification.
Tapco HomeDry has been established and continuously trading since 1971 and has carried out many dry rot and damp surveys and restoration contracts on both domestic and commercial properties. We have the enviable reputation as being one of London and the Home Counties longest established and reputable dry rot, damp proofing, water damage and woodworm eradication experts. Our specialist dry rot and damp treatment has helped thousands of people to eradicate the problems from their properties once and for all. We use only the safest and best high performance timber preservatives and all plastering is carried out in accordance with our 'Tapco HomeDry Dry Rot and Damp Proofing and Dry Rot re-plastering system'.
Call us first on 0800 195 9878 for a full dry rot and damp Survey on your property. We are long term members of the Property Care Association (PCA) and Trust Mark. We are all an accredited Which? Trusted Trader so Do It Once, Do It Right with Tapco HomeDry.