Esher and its neighbour Thames Ditton are the homes of Tapco HomeDry. Our head office is in Thames Ditton and our depot and surveyors office are on the platform of Esher Station, giving us easy access to the whole of London and all its surrounding Counties. If like us you are lucky enough to own a property in the Elmbridge Boroughs, Esher and Thames Ditton we are sure you would have heard of us and seen our many vans of the years. Maybe you've had the need to use our services at some time, hopefully it wasn't to eradicate an attack of the dreaded Dry Rot (Serpula lacrymans).
Dry Rot is the most insideous form of decay that can affect a property. In able for it to attack your timber it needs moisture (Damp) so keeping your property dry is imperative.
HOW DRY ROT STARTS
1. It begins life as a microscopic spore, almost like a fine orange/red dust.
2. If conditions are damp enough they will start to grow white strands called hyphae.
3. These germinate to create a large mass called mycelium.
4. Finally the fruiting body (Image below) will distribute its new spores into the air.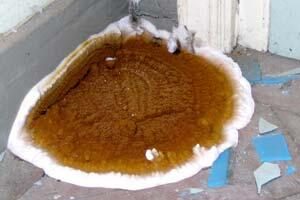 Dry Rot is an extremely fast spreading form of wood decaying fungus as each spore released is capable of starting a new dry rot outbreak. It will eat away at timbers and building materials in your home which can lead to severe structural damage.
Tapco HomeDry are one of London, Surrey and the Home Counties most established and reputable Dry Rot and Damp Proofing specialists. We've been diagnosing and treating Dry Rot in the Borough of Elmbridge for over 44 years since we began in the industry in 1971. This affluent area of Elmbridge can be at risk of dry rot just as much as anywhere else.
Our experienced operatives have attended properties in Esher and Thames Ditton for many rears and saved home owners from thousands of pounds worth of damage. It's important not to underestimate the damage that Dry Rot can cause so call us without delay.
We thoroughly eradicate every last sign of mycelium by removing wall plaster and cutting out all affected and weakened timbers. We apply a high performance timber and masonry preservation treatment to kill off all spores to prevent further attack. Finally we replace wall plaster in accordance with our 'Tapco Homedry Dry Rot re-plastering system' and replace the timbers with new pre-treated timber.
We are long term members of the Property Care Association (PCA) and Trust Mark (Government Endorsed Standards). Our Dry Rot treatment is guaranteed for 20 years and can be protected by Guarantee Protection Insurance (GPI).
Call us first on 0800 195 9878 for a full Dry Rot and Damp survey by our qualified surveyor. Do It Once, Do It Right with Tapco HomeDry.