Tapco HomeDry's neighbour, the bustling town of Kingston-upon-Thames, with the Bental Centre and its many other shops attracting people from many miles away. We have been established since 1971 since when we have carried out many Dry Rot and Damp Proofing restoration contracts for many happy customers who recommend Tapco to their friends.
Where ever you live, Dry Rot spores live. Fungi attacks and insect infestations are nature's way of 'tidying up' so millions of spores are in the air constantly. As soon as a piece of timber becomes damp or wet, spores settle and commence the process of producing fungus and mycelium to breakdown and dispose of the dead wood. In addition to this there is also likely to be infestations of wood boring insects (woodworm) also eating away at the wood.
All of this is ideal if it's a fallen tree that's being disposed of but if it's the timbers of your property it's far from ideal. Dry Rot is  extreamly serious and needs to be eradicated without delay.
A BRIEF DESCRIPTION OF DRY-ROT (Serpula lacrymans)
Tapco HomeDry have been carrying out Dry Rot treatment, eradication and restoration in Kingston-upon-Thames for over 45 years and are very experienced at eradicating it so it never returns. Established since 1971 we have the enviable reputation as being one of London, Surrey and the surrounding Counties most established and reputable Dry Rot and Damp Proofing companies.
Dry Rot fungus needs a source of moisture to form and spread (In excess of 20%). Simply, if there is no moisture there will be no dry rot. Often we are unaware of a damp problem because it may be leaking plumbing, or similar, under the floor. Unfortunately when the first sign of an attack appears it is too late and considerable damage has already occurred.
You may notice joinery cracking, a bouncing floor and mushroom smell. You may even have been constantly wiping a reddish brown dust from your furniture or picking mushrooms in your living room.
Sounds horrendous? That's because it is. Dry Rot is the most insidious problem you can have with your property, with the exception of subsidence and there is no easy fix. Dry Rot mycelium spreads very quickly so the longer you leave it the more damage it causes and the more expensive it becomes, often running into thousands of pounds.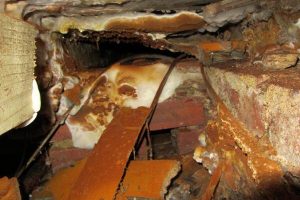 Immediate action that should be taken
Immediately locate the cause of the damp and rectify the fault. Ventilate the affected areas and call Tapco HomeDry to arrange a full and thorough survey by our fully qualified timber and damp surveyor. We will then issue you with a very detailed report, floor plan and images together with our recommendations to eradicate the dry rot, which you can produce to your insurance company.
Tapco HomeDry's Dry Rot remedial work is covered by our 20 guarantee which can be protected by Guarantee Protection Insurance (GPI). We are also long term members of the Property Care Association (PCA) and Trust Mark (Government Endorsed Standards)
If you think you may have a problem with Dry Rot in Kingston-upon-Thames call Tapco HomeDry to arrange a survey without delay. Do it Once, Do it Right. Call us on 020 8398 6663.