Richmond-upon-Thames is where it all began for Tapco (Treatment And Preservation Company) way back in 1971. It was our very first job, Dry Rot eradication at The Ivy Hall Hotel over 45 years ago. Our 20 year guarantee for this contract expired over 25 years ago.
Our now managing director was asked by the owner to inspect what he thought was rot, to a suit of the hotel. It was found that an attack of True Dry Rot Fungi (Serpula lacrymans) which is the most damaging of any wood destroying fungi that can affect a property was virulent and damaging the structural timbers. It will quickly attack the internal fabric and surfaces of your property and destroy anything in its path.
The term Dry Rot is slightly confusing as this brown wood decaying fungi needs a minimum amount of 20% moisture before it can start to do its damage. We used an electronic 'Survey Master' damp meter to determine moisture levels and inspected timbers and accessible floor areas.
Following the inspection we sent the hotel owner a full and thorough report and recommendations of what remedial work and treatment was required. We were immediately instructed to carry out remedial restoration, in accordance with our recommendations, to prevent the problem spreading further.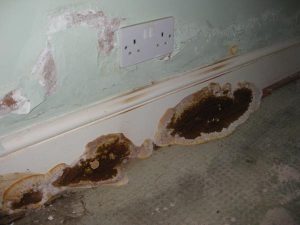 The restoration work and treatment included:
Masonry and timber treatment. Cutting out affected structural timbers and replacing with new pre-treated timber as necessary plus applying high performance timber preservatives to all remaining sound timber.
Specialist Dry Rot replastering.
Replacing joinery using new pre-treated timber.
Improving sub-floor ventilation by installing extra air bricks. If airflow is not sufficient it will rapidly promote timber decay.
Our very first job went very well and we have developed into one of London, Surrey and the surrounding Counties most established and reputable Dry Rot and Damp Proofing specialists. We are long term members of several professional bodies including the Property Care Association (PCA) and Trust Mark (Government Endorsed Standards) and our work is covered by our 20 year guarantee which can be protected by Guarantee Protection Insurance (GPI).
Call your local expert, Tapco HomeDry, first, on 0800 195 9878 for your Dry Rot or Damp survey.