There are several reasons why the walls of your property, anywhere in East or West Sussex, has cracked bricks. This could happen as a result of seasonal changes, movement of the foundations, failing cavity wall ties or inadequate door or window lintels, (which in older property could be timber and affected by timber decay) or a badly built extension or poor building work. All properties move slightly but if this is too much, then strain is put onto the walls and a vertical cracks can appear up the brickwork. Alternatively, your property may have cavity walls and if so, they will have metal wall ties, keeping the two walls together. Over time, these can corrode, especially if you live near the sea where the air contains salt. When the wall ties corrode, they expand and this is what cracks the walls. If the cracking is serious with wide, open cracks, like the wall below, you should immediately instruct a structural engineer to carry out a survey and report on the cause and what structural repairs are required. His and Tapco HomeDry's survey report can be submitted to your insurance company for their approval.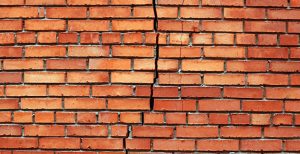 Severely cracked wall caused by structural movement
Tapco HomeDry have been repairing damaged brickwork and masonry and installing cavity wall ties for over 45 years and are experts at structural wall repairs. Some of the services we carry out are:
Surveying cavity wall ties by drilling into the wall and inspecting them with a borescope. Installing new stainless steel wall ties and carrying out all associated damage repairs for your insurance company.
Raking out a horizontal line of mortar joint (brick pointing) and installing stainless steel Helical bars, using a resin compound.
Removing and replacing badly damaged or spalled bricks and renewing to match existing. Spalling is caused by frost damage in the winter. The bricks absorb water, it freezes and the bricks degrade and crack.
Raking out and repointing the defective mortar joints to match existing.
Repairing or completly re-rendering walls, including a permanant colour render and an insulation render.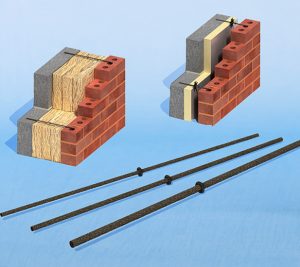 All restoration work and repairs are carried out by our fully trained and experienced operatives. Tapco HomeDry has been established since 1971 and are recognised as one of the longest established and reputable structural repair companies in the UK. We are long term members of the Property Care Association (PCA) and Trust Mark (Government Endorsed Standards). We are also a Which an accedited Which? Trusted Trader and our long term guarantee can be protected by Guarantee Protection Insurance (GPI). Being based in Thames Ditton and Esher, in Surrey, we are perfectly located to cover the whole of London and the Home Counties, including Kent, Sussex and Hampshire so call us first.