Damp problems have no single cause; there are a number of problems that property owners in Kent experience. Each of these causes of damp proofing problems has its own solution. It takes years of experience to be fully versed in all of these practices, and to have the skill to be able to carry out a damp survey, diagnose and treat the full range of damp problems.
Some of the problems we have helped to resolve in thousands of properties.
Rising damp from the ground by capillary action
Condensation leading to steamy windows, droplets on the walls or even entire puddles forming
Water ingress that has caused Dry Rot or Wet Rot both of which can cause structural damage and health issues
Rain penetration through broken tiles, damaged mortar, improperly-fitted windows and other poorly maintained areas.
Lateral damp penetration through the walls of cellars and basements, making uninhabitable or a damp and unpleasant places to spend time
Unfortunately damp proofing is not a "one size fits all" problem; it is essential to instruct a damp proofing firm with the experience and knowledge to fully assess your property and to recommend the most effective solution.
Too many home owners select a contractor based purely on price, only to find that the work done has been ineffective. At Tapco HomeDry we're different; we believe in providing a level of service that lets you rest easy so that your damp problems are gone for good.
Do It Once, Do It Right
Tapco HomeDry take pride in providing the very highest standards in all that we do – from customer service to building work. It should therefore come as no surprise that we are accredited by the Property Care Association (PCA). In addition we maintain an enviable reputation as being a Which? Trusted Trader and are long term members of Trust Mark (Government Endorsed Standards).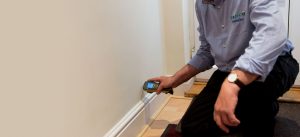 If you're seeking a solution for damp then Tapco Homedry is a name that you can trust. Our specialists – who benefit from over four and a half decades of experience in the area – are considered one of London's most established and reputable damp proofing company.
If you're concerned about the sudden appearance of damp and mould within your home then why not call Tapco HomeDry today for a damp survey.