Following a call from a very upset and distressed client who had returned home from a weekend away only to discover water damage to her kitchen floors, walls and floorcoverings, an urgent appointment was made for one of our experienced and qualified damp surveyors to visit the property. Using a Thermal Imaging Camera and damp meter he immediately located a badly leaking copper pipe under the floor of the kitchen sink unit, exposed and isolated it and to her delight, stopped the leak.
He then took further moisture readings to determine the extent of the water damage, which was found to be affecting timber panelling, timber stud partitioning, localised joinery timbers, wall plaster and areas of the solid concrete floor.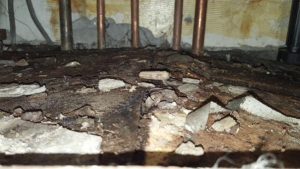 Following receipt of our detailed report our client was given the go ahead by her insurance company to have all the remedial work recommended by Tapco HomeDry, carried out. Our experienced and fully trained operatives first removed all of the damaged plaster and timbers, broke up a section of the concrete floor and carefully disposed of all the rubble to a designated place. The plumbing was fully inspected and tested and the floors and walls were replaced as necessary. The timber stud walls were replaced using new pre-treated treated timber, plaster boarded and plaster set.
Finally all the affected joinery timbers were replaced, kitchen units were refitted and the damaged areas re-decorated to match existing.
Tapco HomeDry has been carrying out water damage repair all over London, Surrey and the Home Counties for over 44 years and are corporate members of the British Damage Management Association (BDMA) and the Property Care Association (PCA). We are recognised and recommended by many insurance company loss adjusters and offer a long term guarantee on all of our water damage restoration work.
Do it Once Do it Right and call Tapco HomeDry first on 020 8398 663.