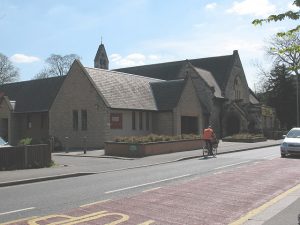 IDENTIFYING DRY ROT & DAMP
We were instructed by our clients to inspect a damp problem and suspected dry rot attack at Christ Church, Church Hall in New Malden, Surrey. An appointment was made for our Property Care Association (CA) qualified damp and timber surveyor to inspect and report on the cause and the extent of any damage that had occurred. The hall had a tongue and groove hardwood floor lain onto softwood joists and plates. The front end of the floor had collapsed and was found to have an advanced alack of Trure Dry Rot fungus (Serpula lacrymans). The ground under the floor was saturated and further investigation revealed a leaking water pipe, which was the cause of dry rot.
ERADICATING DRY ROT & DAMP
A large area of the hardwood flooring was lifted until there was no further evidence of mycelium. The affected joists and plates were removed and wall plaster was taken off to approximately one metre beyond the last sign of the dry rot fungus (mycelium.The joists and plates were replaced using new pre-treated timber and hardwood flooring to match existing was specially machined and laid. The walls were treated using a fungicidal masonry solution at the approved rates, boring and irrigating as required. The walls were then re-plastered in accordance with our specification. Additional air bricks were installed at the base of the walls to increase the sub-floor ventilation.
OUR INSURED DRY ROT & DAMP GUARANTEE
All of our Damp Proofing and Dry Rot treatment and replacement is covered by our established 20 Year Guarantee, which can be protected by Guarantee Protection Insurance (GPI). Dry Rot treatment and Damp Proofing  is specialist work and should not be confused with general building work. Only ever use someone like Tapco HomeDry who are reputable members of the Property Care Association (PCA) and Trust Mark (Government Endorsed Standards). We are also a Which? Trusted Trader so call us first.