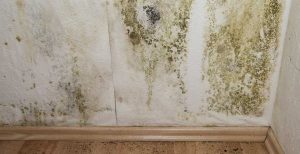 .
IDENTIFYING CONDENSATION
We were contacted by a managing agent to carry out a damp inspection on a rented property in Surbiton where the tenant had complained about severe damp affecting her flat and clothes. Our qualified damp surveyor attended the property and immediately identified condensation, streaming windows and black spot mould fungus to various areas of the property. Measurements were recorded using a Hygrometer which recorded  low overall room temperatures and high levels of humidity, creating a low Dew point (when humidity condenses). The internal surfaces of the external walls were also measures with an Infrared Thermometer and were found to be too cold. Our surveyor also observed that the property was not being ventilated or kept at a constantly warm temperature, in addition to this, she was drying laundry on radiators, creating even more humidity. He explained to the tenant that most humidity is created by our lifestyle and can to a large extent, be controlled by certain life style changes. The humidity was so severe that wall paper was peeling and black with mould and clothes and shoes in wardrobes were being ruined by fungus. Following our inspections our surveyor decided that along with lifestyle changes, control  measures should be taken, using anti condensation equipment. A detailed report was sent to the managing agents for their consideration.
.
ERADICATING CONDENSATION
Following instructions from the landlord, our experienced condensation control technicians installed two Passive Vapour Vents (PVV) in separate rooms and a thermostatically controlled Condensation Control Unit (CCU) against an outside wall of the hall. The Passive Vapour Vents allow filtered fresh air into the room, without draughts and the Condensation Control Unit brings filtered fresh air to the whole property, creating a slight air pressure to control humidity. The internal wall surface of two bedrooms were insulated using thermal backed plasterboard and plaster and the black spot mould fungus was removed using a fungicidal wash.
.
OUR MANUFACTURERS GUARANTEE
Condensation and mould control is not covered by our guarantee but the Condensation Control Unit has a manufacturers 5 Year warrantee. Controlling condensation is the occupants responsibility but with their assistance the equipment will help considerably.