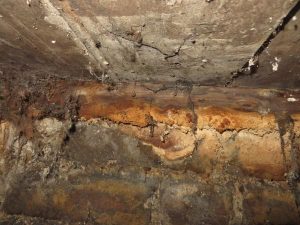 Identifying Rising Damp, Wood Rot & Woodworm
A pre-purchase damp and timber survey was carried out by us, to a two bedroom, 1900's terraced cottage in Reading, Berkshire, following instructions from a chartered building surveyor, on behalf of his client. We were issued with a full copy of the survey report, which highlighted areas of concern. Wood rot and woodworm was found to be affecting the floors, woodworm was affecting the roof frame timbers and considerable rising damp was affecting various walls of the ground floor. The property was generally unmodified and was in need upgrading. Our qualified damp and timber surveyor attended the property and lifted further flooring timbers in order to inspect the supporting joists and plates, which adjacent to the external walls, were affected by Wet Rot fungus (Coniophora puteana). There was also evidence of a scattered infestation of Woodworm (Common Furniture Beetle) (Anobium punctatum) was found. Access was gained into the loft to inspect the roof frame timbers, where active Woodworm was also detected. An external inspection revealed that the property was generally in a poor state of repair, including missing and slipped roof slates, rusting guttering and down-pipes and high external ground level. The sub-floor ventilation was inadequate. Our qualified damp and timber rot surveyor submitted his report, including our recommendations, images and a floor plan, which was forwarded to our client.
.
Treatment for Rising Damp, Wood Rot & Woodworm
.
Timber treatment
Following the purchase of the property our client instructed us to carry out all of the remedial work, recommended in our report. Our experienced and trained operatives first removed all of the damp and salt contaminated wall plaster specified, lifted floor boards throughout and removed all heavily affected timbers that were beyond treatment. Rubble from under the floors was removed and all of the flooring and roof timbers were brush cleaned in preparation for preservation treatment. All rubble and timber removed by us was taken to a designated place for disposal. The timbers were replaced as required, using new pre-treated timber, protecting from damp masonry using a damp proof course. All of the floors and roof timbers were then treated using an insecticidal/fungicidal timber preservative at the approved rates. Additional air-bricks were installed to increase the flow of air beneath the ground floors.
.
Treating Rising Damp
A pattern of holes were drilled into a selected brick mortar joint at the base of the walls, cleared of dust and injected with a Silane/Siloxane cream damp proof course solution to prevent further rising damp. The walls were prepared and replastered by us in accordance with our own damp proofing specification, to complete the system. New skirting timbers were fitted, primed and left for others to decorate. As the property was to undergo considerable renovation works, all building defects were carried out by the main contractor.
.
Our insurance backed guarantee
All of the damp proofing, Wood Rot and Woodworm treatment carried out by us is covered by our established 20 Year Guarantee, which for our clients protection is protected by Guarantee Protection Insurance (GPI). This property has been preserved by Tapco HomeDry to stay dry and wood rot free for many years.