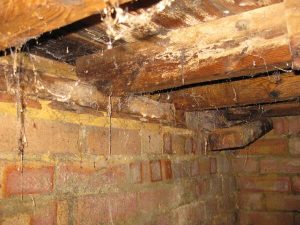 IDENTIFYING DAMP & TIMBER DECAY
Following a call from our client a pre-purchase damp and timber survey was carried out on a three bedroom, 1900's, end terrace house in Croydon. Our Property Care Association (PCA) qualified surveyor attended the empty property and was able lift some of the floorboards and carry out a thorough inspection to the timbers. There was a scattered, active infestation of woodworm, Common Furniture Beetle (Anobium punctatum) to the roof frame timbers and flooring timbers and an attack of Wood Rot (Coniophora puteana) to various joists, plates and floorboards of the ground floor. Random moisture readings taken to the base of the ground floor walls, identified rising damp and some areas of rain penetration, which had stained and damaged the wall plaster. An external inspection revealed that there were not enough air-bricks and more were required to increase the sub-floor ventilation. Some of the guttering and down-pipes were cracked and leaking and the plinth at the base of the walls, was defective.
TREATING DAMP & TIMBER DECAY
Floorboards were lifted, as necessary, throughout and all heavily affected timbers were cut out and removed. The roof frame timbers and the flooring timbers were thoroughly brush cleaned and treated with an insecticidal/fungicidal preservative at the approved rates. Flooring timbers were then replaced as required, using new pre-treated timber, protected from damp masonry using a damp proof course membrane. Additional air-bricks were installed as specified to increase the flow of air beneath the floors. To install a new damp proof course, holes were injected to a chosen mortar joint an the base of the wall, cleared of dust and injected with a Silane/Siloxane cream damp proof course at the approved rates. The walls were the prepared and re-plastered in accordance with our damp proofing specification. New skirting boards were fitted and primed ready to be redecorated by others. All building defects were carried out in accordance with good building practice.
OUR INSURED DAMP GUARANTEE. 
Damp Proofing, Wood Rot and Woodworm treated by us is covered by our 20 Year Guarantee and protected by Guarantee Protection Insurance (GPI). Our clients now have a dry, rot and woodworm free house, for many years to come.