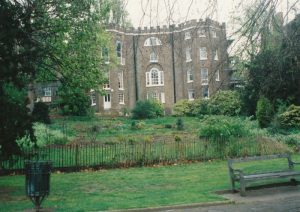 .
THIS IS WHERE IT ALL BEGAN FOR TAPCO IN 1971.
IDENTIFYING DRY ROT & DAMP
This is where it all began, Tapco's very first job way back in 1971. Whilst working at the Ivy Hotel in Richmond-upon-Thames our now Managing Director, John Millroy, was asked by the owner to look another part of the Hotel where he thought there may be a problem with dry rot. On inspection, it was found that the area was in fact affected by a virulent attack of the True Dry-Rot Fungus (Serpula lacrymans) which was affected the upper floor joists and wall plates of the upper room and the side of a large window frame. Mycelium had spread through the masonry and immediate restoration work was required. A decision was made to carry out the restoration work, for our first client and Tapco (Treatment And Preservation COmany) was created.
ERADICATING DRY ROT & DAMP
Considerable areas of wall and ceiling plaster was removed, including ornate cornices. The upper floors were supported and all of the affected timbers were carefully cut out. The complete exposed areas of affected masonry were cleaned prior to applying a masonry, fungicidal fluid, boring and irrigating into the walls as required. The structural timbers were then replaced, using new pre-treated timber which were bolted onto the sound existing timbers using special timber connectors. The large sash window was removed in order to remove the affected sections of timber and replacing them with new pre-treated joinery timber. All of the walls were bricked up and prepared as necessary prior to re-plastering the walls in accordance with our specification. New double layer plasterboard was fixed to the ceilings in accordance with current fire regulations, prior to plaster setting to a smooth finish. New ornate cornices were then made and fitted to match exactly the same as the original. All was left free of Dry Rot ready for others to decorate.
OUR INSURED DRY ROT & DAMP GUARANTEE
This was a very good first contract for Tapco back in 1971, all of which was covered by our very own 20 Year Guarantee, which expired over 26 years ago. However, we never had to go back and since then have carried out many thousands of Dry Rot, Wet Rot, Damp Proofing and Water Damage contracts for many satisfied clients throughout London and the south of England. Don't compromise use the best and call us first.