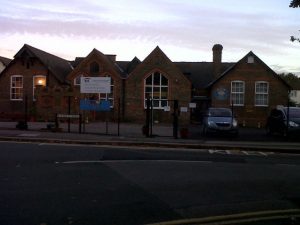 IDENTIFYING DAMP & DRY ROT
The Kingston Synagogue and school is a stones throw from our office in Thames Ditton so we know each other well. Tapco HomeDry has carried out remedial work on two separate occasions at the Kingston Synagogue, once to eradicate an attack of True Dry-Rot (Seroula lacrymans) and the second time to treat a wall which had Rising Damp. On both occasions one of our Property Care Association (PCA) qualified damp and timber surveyors attended the property and carried out a thorough survey and report on what was causing the problem and what we needed to do to eradicate it.
ERADICATING DAMP & DRY ROT
One the first occasion it was found that the attack of Dry-Rot had attacked a considerable amount of the flooring timbers, joinery and masonry of the Synagogue, all of which had to be thoroughly exposed, removed and sterilised using a  fungicidal masonry treatment. All of the remaining timbers where then thoroughly treated using a fungicidal timber preservative treatment, prior to the floor being replaced with new pre-treated timber. Additional air-bricks were installed to increase the flow of air beneath the floor. The joinery timbers were then replaced and all was left for others to decorate.
On the second occasion the wall affected by Rising Damp had to be treated. Wall  plaster was removed along one wall to a height of 1.5 metres and a pattern of holes were drilled into a chosen mortar joint at the base of the wall. The holes were then cleaned of dust and injected with a Silane/Siloxane, cream damp proof course at the approved rates an injection damp proof course was installed at the approved rates. The wall was the re-plastered in accordance with our damp proofing specification, prior to us replacing the skirting timbers with new treated timber, ready for others to decorate.
OUR INSURED DAMP & DRY ROT GUARANTEE
Both contracts at Thames Ditton Synagogue are covered by our established 20 Year Guarantee and  protected by Guarantee Protection Insurance (GPI) We are long term members of the Property Care Association and are very experienced at eradicating Dry Rot, Wet Rot and Damp. Since 1971 we have carried out many thousands of successful projects for our happy clients who have made us a 5 star Which? Trusted Trader.