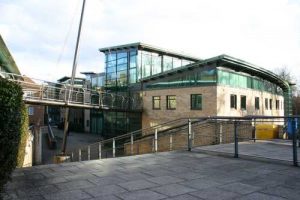 IDENTIFYING DAMP 
Following instructions from our client a Tapco HomeDry, Property Care Association (PCA) qualified damp and timber surveyor attended the Kingston University Campus to inspect and survey some walls that were reported to be damp. Following his general inspection, random moisture readings were taken to the surface of the walls, using a calibrated damp meter, in measure mode, which recorded high levels of moisture in excess of 50%. An acceptable level is below 20%. The pattern of the readings, with a sharp cut off at the top, confirmed that the moisture was rising damp, coming from the ground. Because it is ground water it contained hygroscopic salts which had contaminated the wall plaster and absorbing more moisture from the atmosphere.
ERADICATING DAMP
A detailed report was sent to our clients and following their acceptance we scheduled for our operatives to commence the work. Following taking normal safety precautions, the skirting boards and contaminated wall plaster was removed and taken to a place for disposal. The walls were pattern drilled to the base of the wall and injected with a Silane/Silaxane cream damp proof course solution to prevent further damp rising  up the walls. Vertical damp proof course were also injected to the areas specified by us, to prevent contamination from other areas. The walls were then replastered, strictly in accordance with our damp proofing specification to complete the system On completion of the damp proofing new treated skirting timbers and architraves were fitted and primed and all was left for our clients to decorate.
OUR INSURED DAMP GUARANTEE
All of the damp proofing carried out was covered by our established 20 year guarantee and protected by Guarantee Protection Insurance (GPI). If you need to have damp proofing carried out, the cheapest way is the right way so be sure to do it right, do it once, so call Tapco HomeDry first.