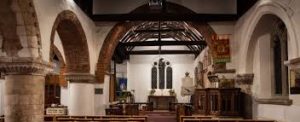 IDENTIFYING DAMP & WOOD ROT
On our clients instructions our qualified damp and timber surveyor attended All Saints Church, Weston Green, Esher to investigate a considerable amount of water ingress and damp inthe cellar storage area and boiling room and also to investigate rotting timbers to the ground floor. All Saints Church is next to a pond and it immediately became apparent that as the level of water rose in the pond, it would flood the church cellar. Because this had been going on for a long time it had caused wood rot and an infestation of woodworm to some of the church floor. Following a thorough survey our report and proposals were sent to our client.
ERADICATING DAMP & WOOD ROT
We decided that the best course of action was to install a Cavity Drain Membrane (CDM) system in the cellar and to replace all of the rotted flooring timbers. On our clients instructions, our experienced operatives attended the church and immediately pumped out the water from the cellar, prior be excavating the floor and installing a special pump chamber and pump. A high density polyethylene studded membrane was installed to the walls of the cellar, using special water proof fixings. A larger studded membrane was the fitted to the floor and the two were joined using a special floor/wall joint. The floor surface of treated tongue a groove chipboards was then laid, prior to installing pre-treated wall battens and plaster boarding the walls. These were then plaster set to a smooth finish.Pews were removed from the Church as necessary to gain access to the defective flooring timbers, which were carefully removed and taken to a designated place for disposal. The flooring timbers were then replaced using new pre-treated timber and the pews refitted.
OUR INSURED DAMP & WOOD ROT GUARANTEE
Cavity Drain Membranes (CDM), treated timber and the methods we used mean that our clients can feel sure that the lovely old Church will stay dry and free from wood rot or woodworm for many years to come. All of the work we carried out is covered by our established 20 Year Guarantee, which is protected by Guarantee Protection Insurance (GPI). Tapco HomeDry has been established since 1971 and are long term members of the Property Care Association (PCA) and Trust Mark (Government Endorsed Standards). We are also members of the Basement Waterproofing Association (BWA) and an accredited Which? Trusted Trader. All important to make our clients feel safe.