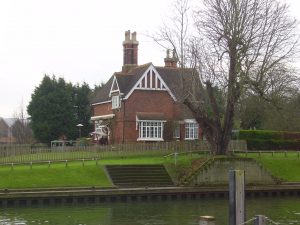 IDENTIFYING DAMP & WOOD ROT
On behalf of our clients, Thames Water, a thorough damp and timber survey was carried out by our Property Care Association (PCA) qualified, damp and timber surveyor, at the beautiful lock keepers cottage, on the River Thames  at Shepperton in Middlesex. Where possible, furniture was moved, the corner of the carpets and a floorboard was lifted to expose as much as the subfloor timbers as necessary to allow a thorough inspection to be carried out. It was found that many of the flooring timbers were affected by wood rotting fungi and infestations of wood boring insects (woodworm)
Moisture readings were then taken to the walls, using a hand held Protimeter Surveymaster damp meter, in measure mode, which recorded high levels of moisture to many or the walls. From the pattern of these readings it was diagnosed that they were affected by rising damp.
ERADICATING DAMP & WOOD ROT
Following the submission of our detailed report and recommendations, our fully trained, experienced operatives were instructed to carry out the remedial work in accordance with out instructions. The damp and contaminated wall plaster was removed and floorboards were lifted to expose all of the structurally weakened timbers. A pattern of holes were drilled at the base of the walls, cleaned to remove dust and a Silane/Siloxane cream damp proof course solution was the injected into the base of the walls and vertically in accordance with our specification. All affected timbers were replaced with new pre-treated timber, in accordance with good building practice and additional air-bricks were installed to increase the sub-floor ventilation. The walls were then re-plastered in accordance with our damp proofing plastering specification in preparation for our clients own contractors to decorate.
OUR INSURED DAMP & WOOD ROT GUARANTEE
All of our damp proofing, wood rot eradication and preservation treatment is covered by our 20 Year Guarantee and protected bt Guarantee Protection Insurance (GPI)
We not only carry out damp proofing to commercial properties, in our 46 years of continuous trading we have also carried out successful damp proofing, timber treatment and timber replacement to thousands of domestic properties, large and small. We are London and the Home Counties premier damp proofing ant timber preservation company, so be sure to call us first.