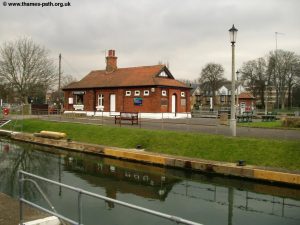 IDENTIFYING DAMP
A considerable amount of timber decay, woodworm infestation and damp was uncovered during renovation work at Teddington lock keepers cottage which is in a beautiful setting alongside the River Thames. Tapco HomeDry were called in by our clients, Thames Water to carry out a specialist damp and timber survey, which was carried out by our experienced, qualified surveyor. His survey consisted of lifting floorboards to inspect the sub-floor timbers and taking random moisture readings to the surface of the walls, using a calibrated damp meter. Considerable amounts of rotted timber was found to the floor joists and plates and many of the walls were found to be affected by rising damp.
ERADICATING DAMP, WOOD ROT & WOODWORM
Following instructions from our clients, our experienced damp and timber technicians were sent to the property and proceeded to lift the floorboards and remove all of the rotted and heavily affected, decayed timber that was beyond saving. The void under the floor was cleared of all rubble an debris, the damp wall plaster was removed and all rubble was taken to a designated place for disposal. Much of the floors were replaced, using new treated timber and protected from damp masonry by a damp proof course. In order to prevent further rising damp, a mortar joint at the base of the wall was pattern drilled, the holes were cleared of dust and injected with a Silane/Siloxane cream damp proof course solution. To complete the damp proofing system, the walls were then prepared and re-plastered in accordance with our damp proof plastering system. The skirting boards were replaced to match existing and primed ready for decorating.
OUR INSURED DAMP & WOOD ROT GUARANTEE
All of the damp proofing, wood rot, woodworm treatment and repairs are covered by our very safe 20 Year Guarantee and protected by Guarantee Protection Insurance (GPI). It is important not to confuse specialist damp proofing and wood rot treatment with normal building repairs, which should only be dealt with by a reputable specialist who are members of the Property Care Association (PCA). Tapco HomeDry are and we are also a 5 star Which? Trusted Trader so call us first.