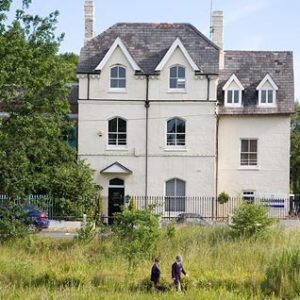 IDENTIFYING DAMP
Following a call from a representative of Weston Green School who advised us that they had a damp problem in one of their offices, an appointment was made for one of our qualified Property Care Association (PCA) damp and timber surveys to carry out a thorough survey to find the cause of the damp problem. Because of the location of the damp it was decided to gain access onto the roof to inspect the roof valley for defects, It was found that there were defective lead soakers in the valley that were leaking and allowing rain to penetrate. An internal inspection revealed serious damage to the plasterboard of the dry lined walls and staining to the ceiling plaster. A detailed report was produced, which included images and our recommendations for all of the water damage and damp repairs, including repairing the cause, a leaking roof.
ERADICATING DAMP
Following instructions from our clients the works were commenced by our experienced operatives who gained safe access onto the roof, removed roof slates as necessary and replaced the lead roof flashing with new code 5 lead. The roof slates were then refitted, replacing as necessary. Internal water damage repairs included removing the damp and damaged plaster board from the walls and ceiling and replacing it as necessary using new insulated board. This was then scrim taped and plaster set to a smooth finish ready for decorating.
OUR INSURED DAMP GUARANTEE
Water damage repairs and damp proofing carried out by us are covered by our established 20 Year Guarantee, which is protected by Guarantee Protection Insurance (GPI) Water damage restoration and damp proofing should only be carried out by an established specialist such as Tapco HomeDry Ltd. We have been continuously trading for over 46 years and are recognised as one on London and Surrey's most established and reputable damp proofing company, so be sure to call us first.