If a wall is cracked it means it's moved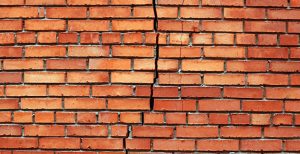 If you own a property and have noticed cracks appearing to the walls, either internally or externally, this shouldn't be ignored. There are several things that can cause masonry to crack, particularly on older properties, but not necessarily only these, because newer properties, for one reason or another, can also be affected. The size and location of the cracks often tell us what has caused it but this is not always the case.
Properties built from the 1920's started to be constructed with cavity walls. This is two courses of brickwork, built with a 75mm cavity, as a means of preventing rain penetration and improving heat retention. The walls were tied together using metal straps, wall ties, which were installed at approximately 1 metre intervals. Unfortunately, especial in or around coastal areas, where there a lot of salt in the air, the wall ties start to corrode and when doing so they swell, causing the bricks to crack. If this happens it is very important that you instruct Tapco HomeDry to carry out a Wall Tie survey, by drilling into the cavity and inspecting the wall ties, using a Boroscope.
There is always some slight movement on a property, again, particularly older ones. The amount of the movement can vary depending on the depth and quality of the foundations the property was built on. Older properties are more at risk because the foundations of newer properties have greatly improved in recent years. As the ground shrinks in the summer heat and swells during the wet winter the property can move and when it moves bricks can crack.
If the problem with cracked brickwork looks serious or you think it is getting worse, you should immediately contact a structural engineer to carry out a through structural survey and detailed recommendations. Fortunately, should you have a problem, it may be covered by your home insurance, but whatever, it shouldn't be ignored.
Tapco HomeDry has been established since 1971 and have many years of experience, repairing cracked, damage brickwork and replacing Cavity Wall Ties. We always carry out our work using only the best quality, stainless steel, Helical bars and wall ties and all of our work is covered by our long term guarantee. Call us first to book a survey.