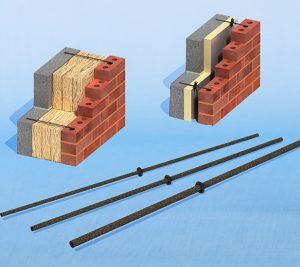 Cavity walls can be a confusing topic for homeowners. Today is the day we clear up the confusion and to help us, we will use the classic five W's; What are cavity walls? Where are cavity walls? Why do we use cavity walls? When will cavity walls effect my property? And Who can solve my cavity wall problem?
Let's begin with the basics.
What is a cavity wall?
A cavity wall is made up of two walls with a gap in between, known as the cavity.
Where are cavity walls?
The walls that outline the structure of your home will have been designed as a cavity wall or a solid wall. The typical cavity wall method of construction began to be implemented in the 1920s and continued to grow in popularity and if your house was built after 1982 it is almost certain to have been designed with the cavity wall method.
By checking the brick patterns on your outside walls you may be able to ascertain whether you have cavity walls. Typically, stretcher bond walls (all bricks laid on their long side) are likely to be an indicator of a cavity wall. Additionally, the thickness of your outside walls can be an effective measure of whether your home has cavity walls. If your outside wall thickness is greater than 11.5inches (30cm) then there is a strong probability that your house has cavity walls in place.
Now we know where cavity walls are situated, we must ask why do we use cavity walls?
The purpose of a cavity wall is to help prevent rain water from penetrating through the outer wall to the inside of the property. However, as this method of construction leaves a gap (cavity) in-between the two walls a great deal of heat can be lost. It is estimated more than a third of all heat lost from an uninsulated house escapes through the walls.
This paves the way for cavity wall insulation, a cost-effective method to reduce the amount of heat lost from your home as a result of the lack of insulation. Most recently built houses will have insulation already however, cavity wall insulation is a simply applied installation process.
When will cavity walls effect my property?
Good question. During the cavity wall method of construction it is critically important that cavity wall ties are attached to both walls to provide stability to the building. Over time, as these cavity wall ties are exposed to water and cement chemical attacks the effectiveness of the cavity wall ties significantly reduces. As corrosion of the cavity wall tie takes place, the walls surrounding your house will no longer be stable and if left could ultimately collapse as a result of the pressure.
Clearly the imminent threat of a wall collapsing is rather daunting for homeowners. However, the severity of cavity wall tie issues escalate as time goes on. The faster one acts, the easier and cheaper it will be for an expert to solve the issue.
In the past, galvanised steel was most widely used within the industry, however, its elements leave it more susceptible to corrosion when compared to the stainless steel ties used within the industry today. As a result of past techniques your house may have galvanised cavity wall ties in place which may require updating to stainless steel to reduce the chances of structural damage to your property.
Who can solve my cavity wall problem?
Fortunately here at Tapco we are experts at repairing or replacing cavity wall ties as well as repairing damaged mortar – a process known as "stitching" in the industry. Our property maintenance experts have been restoring damaged houses into happy homes since 1971 and we are confident we have the knowledge and skills necessary to resolve any issues you may be having. For more information please call us on 0880 195 9878.