Well done Great Britain's Athletes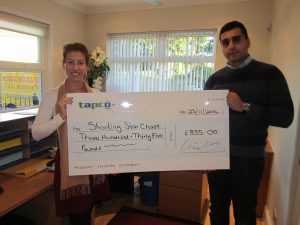 Tapco HomeDry are pleased to have helped the Children's Hospice, Shooting Star Chase, give the sick children and their families living in London and Surrey a Christmas to remember. Thank's to the incredible achievements of Great Britain's athletes at the 2016 Rio Olympics, winning 67 medals, Tapco HomeDry donated £335.00, £5.00 per medal, to this amazing charity.
Many of us are fortunate enough to have special memories of Christmas with our families, whether it is baking mince pies with our children, watching nativity plays, writing letters to Santa, playing in the snow or squeezing everyone around the table for Christmas dinner. There's something truly magical about being with the ones you love at this time of the year and the families supported by Shooting Star Chase are no different. However experiencing these special moments becomes much more difficult when your child has a serious illness, what's more, it could be the last Christmas they have together. In the last 12 months, more than 65 children cared for by the charity have died, sadly, that means more than one baby, child or young person, every week.
Tapco HomeDry will continue to support this wonderful charity and if you have recently used our services, you can help us, help them. If you were happy with the service or quality of work you received from us, and are willing to spend a couple of minutes to post a review either on Trust Pilot or Which, (or both) we will donate £5.00 to Shooting Star Chase. Help us Help them.