FREE DAMP SURVEY?
If it sounds too good to be true, it usually is. We all know that very little in this world is free because it just isn't possible. Companies that offer 'free damp proofing and timber treatment surveys' usually employ commission based surveyors so it is in their interest to find a problem and secure the job. The cost involved in doing the survey is hidden within the cost of the work, so it only becomes 'free' if you don't actually instruct them to do the work. There is always the risk that sone defects are missed to keep the overall cost down get the job and the surveyors commission, leaving you to deal with it again later.
How much does a Tapco Survey Cost?
The cost of a Tapco HomeDry and other reputable companies survey depends on a number of variables, including the type of survey and the size and location of the property. We consider our charge a nominal fee, which in many cases, is deductible from the cost of any work that may be required, so in fact, becomes an actual 'free survey' when you instruct us. If you consider, an independent damp and timber surveyor will charge between £250 – £350 for a survey, our charges are very reasonable. Our surveyors are experienced, thorough and qualified by the Property Care Association (PCA). They are not commission based and therefore you receive an unbiased, honest assessment and recommendations.
What Surveys can Tapco undertake?
We are unique in our industry because we stop damp and decay to properties, from the roof to the drains. You will receive a comprehensive report on where and what the problems are and what has caused them. We can undertake repairs of any building defects, all of which will be detailed, together with our recommendations, in our report. We can carry out: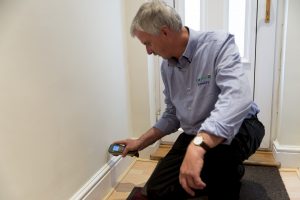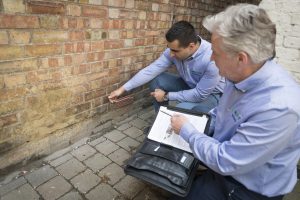 Rising Damp surveys
Penetrating Damp surveys
Woodworm & Wood Rot surveys
Dry-Rot surveys
Basement Damp Proofing surveys
Condensation & Mould Control surveys
Water damage/Flooding surveys
Rain penetration surveys
All Roof problem surveys
All Building defect surveys
Wall tie surveys
Structural repair surveys
CCTV drain surveys
What can I expect in my report?
You will receive a very comprehensive and detailed report, which clearly states what was found and whether or not remedial work is required. This will include images of the problem areas, what moisture readings were obtained and a floor plan showing where the remedial work is required. This will be sent by email and/or post within three days of us carrying out the survey, or you can speak with our surveyor immediately following the survey.
Give us a quick call on 0800 195 9878 and tell us what service you require and we will explain what we do and how much/if any, the fee will be. The most important thing is that you  'do it right, do it once' so call us first.